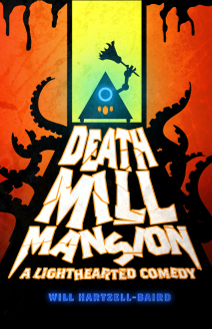 Robbie had seen horror movies before, but he'd never stopped to think about why vampires and werewolves don't get along, where robots would find spare parts after the revolution, or who cleans the floors in a haunted house.
That is, until Robbie's car breaks down on a dark and stormy night, and he discovers that when you find yourself in the middle of a horror story, your only hope of survival is to act like a hero.
"With wry wit and keen eye for absurdity, this book breathes life into the stale tropes of the sci-fi and horror genres . . . this is comic Shakespeare."
- Daniel Nighting, Reading For Sanity
"This was one bizarre story - and a fun change of pace!"
- MarthaE, Martha's Bookshelf
"I know for sure that I will re-read this one over and over again throughout my life because it simply had that impact on me!"
- Diana Dang, Stop, Drop & Read
Reviews refer to a previous edition.
Available on Amazon.
Read a free preview.